Black Friday TeploV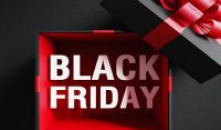 Dear friends!
In anticipation of a worldwide sale on Black Friday, you can purchase any of our wall heaters with a 15% discount.
To do this, you just need to fill out the basket of TM Teplov wall heater you have chosen from the basket from November 29 to December 1 inclusive, indicate all the data for delivery and wait for confirmation of the acceptance of your order from our manager.
Do not count the days before turning off the heating! Black Friday will not only allow you to purchase our heaters at a pleasant discount, but also solve the issue of heating your home in the off-season!
Live warm with TeploV!