Heating workshops, warehouses, workshops, commercial premises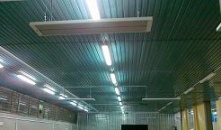 Heating of the workshop, warehouse, hangar, industrial premises
For a very long time, convective systems were the most popular, understandable and affordable way of heating an industrial building. However, today, using the convective method of heating, it is simply impossible to efficiently and at reasonable costs heat certain types of premises, such as a workshop, warehouse, hangar or any other industrial premises. Around the 60s of the last century, scientists began to work on the issue of creating such a heating method that would be suitable for any room and at the same time not lose its effectiveness. The solution to this problem was the invention of infrared heaters, which quickly gained popularity in the West and are still used today. In the post-Soviet space, especially in Ukraine, this heating method is still considered new and unusual. Due to ignorance of the principles of the infrared rays, many believe that this method of heating can be harmful to humans..
The company "Ukrprom" for more than 10 years has been presenting on the Ukrainian market electric infrared heaters. Since 2010, we have been producing our line of IR equipment under the Teplov brand. The soft heat emitted by infrared heaters is absolutely harmless to humans, it gives a feeling of temperature, much more than that which is actually supported in the room. Very often, the principle of operation of our heaters is compared with the sun. Even on a cool day at the same temperature in the shade and in the sun, if you are directly in the sun, you will feel much more comfortable and pleasant. IR heaters also work, which directly heat a person with their rays, all surfaces and objects in the room. Thus, just a few minutes after starting the warehouse heating system, you will be able to feel how warm it warms you, despite the fact that the air has not yet had time to warm up.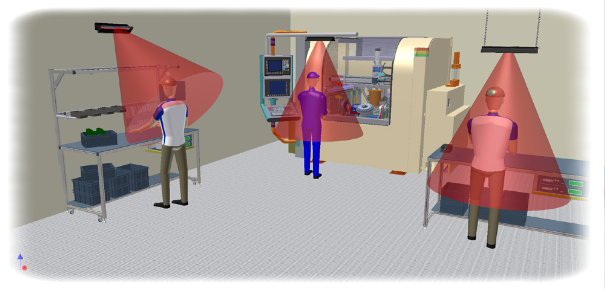 It is this method of work that makes infrared heaters very beneficial for heating the workshop. With the correct installation of heaters in specific areas, it is easy to achieve local heating of only those areas that are directly used by workers and should be heated. Thus, significant savings are obtained on unnecessary heating of large areas, and we also get an additional source of heat - those objects that are heated by infrared rays and began to transfer heat to the air. All this allows you to reduce energy costs by 50%, because the efficiency of each heater is at least 95%.
Full-fledged heating of the hangar is what we can offer to each of our customers, every company that needs constant and efficient heating for a reasonable fee. For such orders, we have a separate line of industrial infrared heaters - Teplov P2000, P3000 and P4000. Our specialists select, install and launch an infrared heating system only after special and unique heat engineering calculations, which make it possible to clearly establish the necessary heat capacity for heating the hangar, heating the workshop, heating the warehouse or heating the industrial premises of each individual.