2. "Armstrong" IR heaters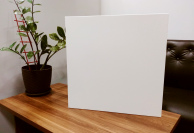 Infrared heater Teplov A500
Add to Cart
| | |
| --- | --- |
| Heated area, m² | 8 |
| Rated power, W | 450 |
| Dimensions, mm | 600х600х20 |
| Weight, kg | 7 |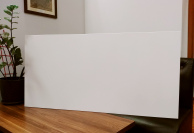 Infrared heater TeploV A1000
Add to Cart
| | |
| --- | --- |
| Heated area, m² | 15 |
| Rated power, W | 930 |
| Dimensions, mm | 600х1200х20 |
| Weight, kg | 14 |
The ceiling infrared embeddable heaters "Armstrong".
The idea of producing a cassette embeddable infrared heater for installation in the ceiling the Armstrong type, appeared from the moment, when we launched production of ceiling heaters. The simple installation of the heater in a suspended ceiling, without tools, was our purpose from the beginning of production. Cassette suspended ceiling –s an effective, available and the most quick solution of the question how to low a high and rough ceiling. Suspended ceilings are applied not first year and have wide application in various premises. Such ceiling has a lot of advantages including esthetic appearance, endurance, easiness of installation, such as in the repaired premises, and during construction stage and further service. Besides this, cassette suspended ceiling allows to hide the communications, which are laid out from climatic systems, supply and exhaust ventilation, electrical wiring and so on. Nowadays suspended ceilings are an integral part of interiors of such premises as offices and shopping centers, medical, kinder and educational establishments, restaurants, entertainment centers, stations, cinemas and so on. The most extended type of suspended ceilings is Armstrong. In connection with this, at projecting of cassette heaters, which are easily built in the ceiling, the decision to stop at standard for Ukraine sections of suspended ceilings by 620х620mm sizes. At the same time for European partners there is an export variant of heater, which is differ in sizes.
Heaters Teplov of Armstrong series it's a stylish solution at the manufacturer's price.
When in our company was the development of heater Armstrong for suspended ceilings, besides effectiveness and reliability was the task to make it maximum light and, as it fashionable to say now, super slim not making heavier a load-carrying structure. As a result cassette heater has thickness just 20 mm and is the thinnest in our whole model range. Previously, we have produced a model Teplov A500, capacity 0,5 kWt and this model is popular. At the same time, many buyers and market were asking more powerful heater for suspended ceilings, having a purpose of decreasing the number of embeddable panels in big premises. We went to meet the client and successfully implemented all the wishes in the model Teplov A1000. This heater occupy two embeddable sections and has additional fixing suspensions, that is increase the safety of installation the heater and the whole load-carrying ceiling structure. At the moment you can buy both models of heaters at manufacturer price unified throughout Ukraine!
Читать полностью →