Technical characteristics and properties of infrared heaters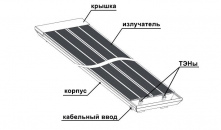 If you are looking for a worthy replacement for standard batteries, electric convectors, climatic equipment, appreciate infrared ceiling heaters, which have high technical indicators and an extensive spectrum of action: this device heats up not only air, but also objects in the room.
IR heaters: basic indicators
Operating principle. On the market are devices that generate infrared rays, in different variations. They differ not only in appearance, but also in the principle of action. Products with a heating panel consist of a plate radiating heat, a ceramic heating element, LED indicators. After switching on, all components heat up and evenly distribute heat to surrounding objects. In this case, most of the heat comes from the front surface of the device.
Devices with a reflector (without a heating panel) are suitable for local heating - creating a comfortable microclimate in a certain area of the bedroom, living room, office. Moreover, you can adjust the direction of the flow of warm air when installing the device by installing a mirror reflector at a certain angle.
The only detail that is in all models of infrared heaters is a thermostat designed to control the temperature regime.
Device type. According to the principle of installation, heaters generating infrared rays are divided into three types:
floor;
wall mounted;
ceiling.
Technical characteristics of infrared heaters of various types differ significantly in power, operating rules, wavelength coming from the heating element.
Floor devices that are used as an additional heat source are considered the least powerful. The maximum power of devices of this type is 400 W, which provides heating of the front surface to 60 ° C. The wavelength coming from the heating element ranges up to 10 microns. But they have one distinctive feature - they are equipped with a special handle that facilitates transportation of the product both within the office or apartment, as well as transportation over long distances. Such devices are perfect for small children's rooms, living rooms, workrooms, in which the ceiling length is less than 3 meters.
In second place in power are wall heaters. They replace central heating, electric convectors and climate control equipment used to heat residential and non-residential premises in autumn and winter. The power of the devices varies from 300 to 800 W, and guarantees heating of the surface to a temperature of 85 ° C. The wave range of the heating element is up to 10 microns.
If it is necessary to provide warmth and comfort in hangars, shopping centers, production shops, choose ceiling heaters. They are powerful (from 600 to 6000 W), operate on long and medium waves.
Type of heating element. Another technical characteristic that you should pay attention to when choosing a heater is the type of heating element. There are four of them:
ceramic panel;
halogen lamp;
quartz and carbon lamps;
gas-burner.
All four types of heating elements will provide quick heating of air and objects in the room, reduce energy consumption for heating the room, make the house warm and cozy when there are bitter frosts, wind and rain outside the window.
What are the main advantages of infrared heaters?
Infrared heaters are considered the best alternative to central heating due to a whole range of factors:
profitability (reduce the consumption of thermal energy by up to 30%);
practicality (they require minimal care);
variability (all models are equipped with a thermostat that allows you to choose the optimal temperature for heating the room);
long service life (the warranty period of these devices is up to 10 years).
By purchasing these devices, you will get rid of unnecessary troubles, expenses and worries: now you do not need to think how to reduce energy consumption and look for "tricks" to make your home, office, retail space warm and comfortable. Just start the IR heater!