Heating of industrial premises, workshops, warehouses, hangars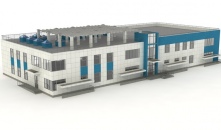 Heating of industrial premises, workshops, warehouses, hangars
Now manufacturers are trying to reduce production costs by all available means in order to produce goods that will have low cost and high competitiveness in the market. Heating a huge workshop, warehouse or production premises is a very costly expense.
It is no secret that of the entire vast area of industrial buildings, the work area that requires heating is 20-30%. Unfortunately, standard heating systems are not able to produce local heating. Usually it is necessary to equip absolutely the entire room with heating, as a result of which 70-80% of the heat and energy that went into providing it can rightfully be considered wasted.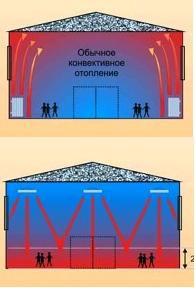 In addition, the heated air rises in any case, and therefore every meter up guarantees heat 2.5 degrees Celsius higher than below. Because of this, in a building with a ceiling height of, say, 12 meters, the temperature below, in the working area, will be about 15 degrees, and under the ceiling - as much as 40 degrees Celsius. Due to this imbalance and overheating of the air, the problem of increasing heat loss through walls, upper ceilings, light openings arises.
In addition, the distribution of heat in the working area used by man is carried out at a high air speed, which, in turn, leads to drafts and a decrease in the level of comfort for workers. If the air heating system operates in normal mode and maintains a temperature slightly higher than necessary, to create more comfortable conditions, there is a situation of increased heat loss.
Many enterprises have now solved this problem in a simple way - they maintain the temperature below the standard, which allows to slightly reduce the cost of industrial heating. However, this seemingly economical way leads to the fact that workers get hypothermia and are in unacceptable working conditions. To avoid this, the air distributors are turned up or removed altogether, but this only allows you to save the system from defrosting and complete failure. This way is obviously losing, and does not allow saving on heating.
Another significant minus of air systems is the inability to control, which is especially important for enterprises that do not work continuously in three shifts, but involve work in one or two shifts, rest on weekends and holidays, or even a part-time work week. In the middle lane, the heating season is approximately 5,000 hours per year, of which working time is about 1,100 hours (23-25% of the total time). As a result, 75-77% of the time the company pays for the heating of workshops, which not only do not need it, but also do not bring profit. Even if you imagine that the work goes in two shifts, still more than 50% of the time the heating is idle. This is one of the reasons for enterprises to refuse such a heat supply system.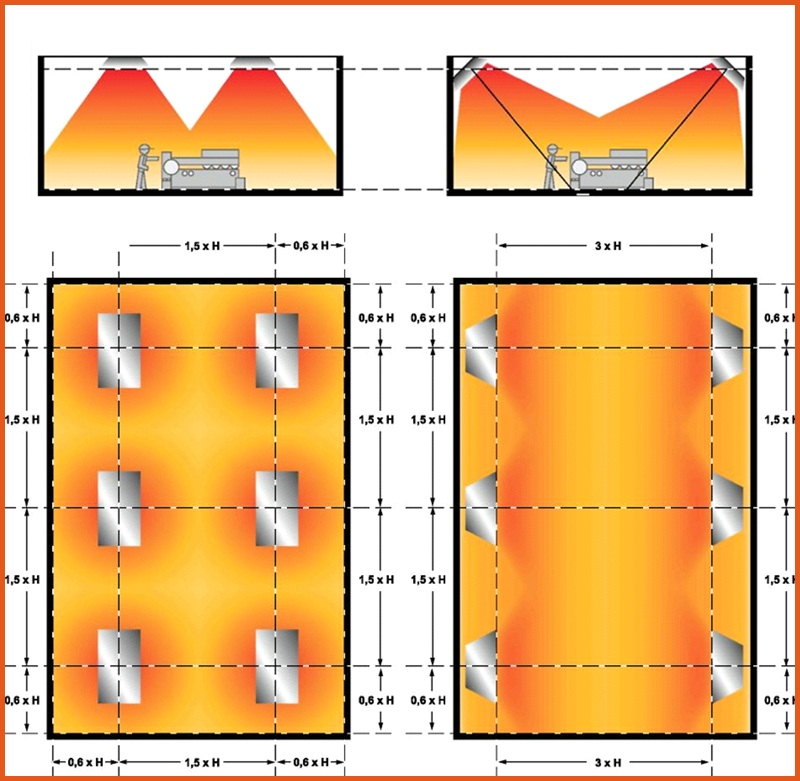 It is easy to calculate that the funds spent on heating the warehouse are included in the cost of production of the company, which significantly increases the price, thereby reducing competitiveness. But if air heating systems had the ability to adjust and enable various modes, their costs would be significantly reduced, and the price of goods on the market would be lower and more attractive. However, there are many obstacles to this:
• Currently, air heating is able to enter standby mode only as a result of a laborious manual translation, which always carries the risk of defrosting and disabling the system.
• Another way to save money - by shutting off water flow - can also lead to unbalanced systems and serious consequences. In addition, this does not reduce the cost of fan drives.
• If you reduce the air flow, another problem arises: the temperature of the return network water rises, but there is no increase in heat in the room. Moreover, such fraud is available only to professionals with many years of experience.
In this regard, at present, more and more company managers are looking for a replacement for aging and inefficient air batteries, which would save on heating. The TeploV consultants will quickly help you plan an infrared heating system for rooms of any size, calculate heat losses and heating costs for your specific project.
The products of the TeploV company are reliable, high-quality domestic and industrial infrared heaters, and in addition, convenient service: the company's specialists will create an individual heating project for your premises, deliver the order to anywhere in Ukraine at a convenient time for you and perform high-quality installation in short time.