"Company" Ukrprom "manufacturer TM Teplov, won the tender for space heating Kiev Metro!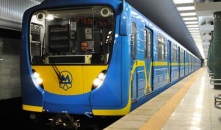 Underground heating, Kiev
This week, the results of a tender held by the Kiev Metro utility for heating metro stations in Kiev were announced and we are pleased to announce that Ukrprom, the largest and leading producer of infrared heating systems, won this tender!
The high quality and affordable price of our infrared heaters, manufactured under the Teplov trademark, allow us to take leading positions at various tenders for the first time, and this was no exception. Now, Teplov infrared heaters will provide high-quality and economical heating in many rooms of the Kiev metro, where tens of thousands of people visit every day, as well as underground staff. We are pleased that the management of the enterprise made a decision on choosing infrared heating systems, because this once again proves that infrared heaters are a convenient, fast and reliable way to heat absolutely any room.
The selection of the winner in the tender was based on several basic criteria: price, quality, efficiency, safety, as well as a simple system installation and control process. Teplov infrared heaters have been tested for compliance with all requirements according to these criteria, because the quality and safety of our heaters is confirmed by European and Ukrainian certificates of conformity, fire safety documents and others. The effectiveness of infrared heating systems ТМ Teplov was proved after conducting heat engineering calculations, which clearly showed all the necessary costs for electricity (40-50% less than other heating systems) and the result - providing the premises with warm natural heat, as well as the absence of large heat losses due to the unique principle of operation of IR heaters. The ability to fix heaters to any surface, and special temperature controllers that control the temperature of the heating, were noted in the last two criteria.
It is worth noting that before this, infrared heating systems have never been used to heat the metro in Ukraine. That is why we have to carry out large-scale and responsible work on heating the Kiev metro and victory in this tender once again proves that infrared heating systems are a profitable and universal way to create a comfortable microclimate for a person, wherever he is.