Infrared Heater: Benefits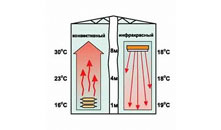 Those who want to spend the autumn-winter period in comfort are advised to purchase wall-mounted infrared heaters. The advantages of these devices are obvious, and in quality, practicality and the amount of energy saved, they are in many ways superior to both gas boilers and electric convectors.
Advantages of IR heaters
These innovative devices appeared on the market just a couple of years ago, but relatively quickly gained the trust and loyalty of consumers. The reason for success is the advantages of infrared heaters, which left their main competitors out of work:
high speed of heat transfer: if an electric convector needs at least 15-20 minutes to increase the air temperature in the room to the optimum mark, then IR heaters can do this in 2-3 minutes. You will appreciate this feature of infrared devices upon returning from the cold or a long walk in windy weather;
operating principle: the main advantage of infrared heaters is that they heat not only the air, but also the surrounding objects - a carpet, furniture, a cup. When you completely turn off the power source, the room is re-enriched with thermal energy coming from accessories, and the room has a comfortable microclimate for a couple more hours. The principle of operation of standard heaters is completely different - they heat the air, and if you open the window or leave the front door wide open for just a couple of minutes, and nothing will remain of the former heat;
safety: infrared rays coming from a heating device do not dry the skin, do not irritate the mucous membranes of the eyes and nose, and are absolutely safe for the health of both adults and children;
profitability: IR heaters consume three times less energy than gas burners and electric convectors, but at the same time they have a higher level of thermal return in winter, when outside the window - 20 ° С you can walk in light home clothes. By installing an innovative device in an apartment, country house, office or in the country, you will provide a comfortable microclimate at any time of the year;
mobility: heaters of this type weigh only 3-4 kg; they are easy to transport in a cardboard box or sports bag. You can transport devices on any type of transport: from a bicycle to a bus;
easy installation: to install a "heat source" in a house or office, you just need to have at hand a standard set of tools (hammer, screwdriver, screws) and carefully study the instructions that came with the heating device;
reliability: this device operates due to the infrared heating element - strong and durable. Its service life is from 5,000 working hours. The plus is that the operability of "radiation" is not affected either by sudden changes in temperature or voltage in the mains. You get a reliable device that will provide home or work space with heat for a long period of time.
Despite all the advantages, infrared devices have one drawback - the price. In cost, these devices are superior to standard heaters, but there is a significant plus: IR devices pay off within 3-4 months after installation. This is due to the economical use of electricity and the reduction of utility bills.
Where to buy IR heaters?
If you want to purchase high-quality and proven models of infrared devices, go to a specialized store. Here you will be offered not only a wide range of products, affordable prices, expert advice, but also a quality guarantee from the manufacturer, with which you can contact any service center.