heating church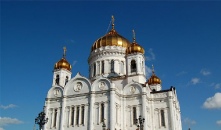 Economical church heating
The architectural heritage of Ukraine is very rich and ancient. The lion's share of all buildings is churches, temples and other holy places that are hundreds of years old, but many of them are still the spiritual centers of believers. Of course, there are new, no less beautiful and expensive buildings that daily receive everyone in their walls. Today we strive to create maximum comfort in everything, churches and temples are no exception. In the cold season, there, as elsewhere, it is cold, which leads to unpleasant consequences: from damage to the decoration of the church to impossibility there is in severe frost.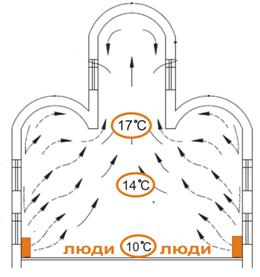 The peculiarity of heating the church is that state requirements indicate the need to maintain a temperature of at least 16 degrees, which is considered the most optimal in order to ensure the safety of all religious attributes and the interior of the church. However, in practice, such a task turned out to be almost impossible, since each church has a special layout, domed high ceilings, large heat losses due to often open doors and many other nuances that minimize the heating effect.
A classic example of a method of heating churches is a convective heating system that heats the air and allows it to circulate around the room. Thus, warm air rises freely, and people for a long time remain in the zone of cold air, which accumulates below. Also, convective heating systems, with a high intensity of operation, are prone to strong air drying, which is unacceptable for centuries-old structures with very fragile and ancient furniture, for which the humidity level is critical.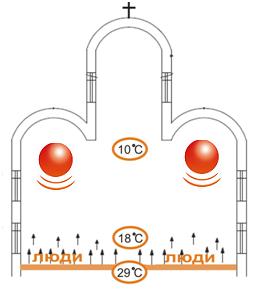 With the advent of the Ukrprom TM Teplov infrared heaters on the Ukrainian market, our architectural pride of the country, all churches, temples, and laurels received a unique opportunity to achieve the required 16 degrees with the infrared heating process absolutely safe for objects and people.
In order to independently verify the quality and effectiveness of our heating equipment, Ukrprom and our regional representative in the Vinnytsia region Salon Shop "EXPERT" provides you with the opportunity to learn how to heat the church using long-wave infrared heaters, as well as about similar projects completed.
We advise, first of all, to pay attention to such advantages of IR equipment as ease of installation, the possibility of use as an additional or main heating system, as well as for zonal heating of the church.