Types of infrared heaters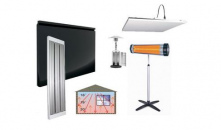 When buying an IR heater for a commercial or living room, evaluate not only its external design and technical indicators, but also the type of device by the type of fastening: they can be fixed on the wall (wall), on the ceiling (ceiling), on the floor (floor). Different types of infrared heaters have specific features and advantages.
Three types of IR devices
Floor standing. These devices are an excellent purchase for a classroom, a country house, an office with a ceiling height not exceeding 3 meters. They are able to warm the air to 25 ° C. Their maximum power is 400 watts. They belong to the category of "long-wave infrared heaters", which do two things: they will provide a comfortable microclimate in the autumn-winter period and help reduce the cost of paying for heat. It is advised to use floor devices as a concomitant source of heat or zone heating for the nursery, living room, bedroom, study.
Their main difference from other types of heating equipment that generate infrared rays is the presence of a durable handle with which you can easily rearrange the device from place to place and transport it to another location.
Wall mounted. Heaters of this type are chosen for cottages, office buildings, garages, commercial premises. They are considered as an additional source of heat, which enhances the effect of batteries or climate technology. It is also used as the main source of heating, because it distributes the flow of warm air over the entire area of ​​the room, heating surrounding objects. The power of this type of device varies between 400-600 W, the wavelength of the heating element is long. For a short period of time they warm the air in the room by 10-15 degrees. Wall heaters have a compact size, stylish design, they are reliable and practical.
Ceiling. This type of heaters is suitable for shopping centers, workshops, commercial premises, the area of ​​which is more than 50 square meters. m. They can also be installed in open areas - arbors and terraces. They can be used as the main heating and completely refuse to connect to the central heating system. At the same time, the cost of paying for heat will be reduced, and the air temperature will be acceptable when the temperature outside the window drops to -20-25 ° C. The power of the devices ranges from 600 to 6000 W, the wavelength emanating from the heating element can be either long, medium, or short.
Infrared heaters: the main advantages
All types of infrared heaters have undoubted advantages in comparison with standard batteries, air conditioners, electric convectors. Devices that generate infrared rays:
do not dry the air;
reduce thermal energy consumption by up to 30%;
provide a comfortable temperature for 10-20 minutes after switching on;
not only heat air, but also surrounding objects;
equipped with a temperature regulator;
I work without noise;
have a long service life.
Buy infrared heaters in specialized stores, and you will provide a comfortable microclimate in your home and office in the cold season!