Heating Restaurant "Urartu"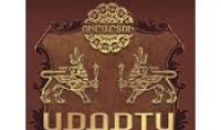 Heating of the restaurant "Urartu"
In our wonderful capital - the city of Kiev, in Troieschyna, a new facility has appeared, where Teplov infrared heaters were used to heat the room. Exotic restaurant "Urartu" now has an autonomous, modern and highly efficient infrared heating system, which was created thanks to our representative in Kiev, Kovalenko Tatyana, with whom Ukrprom has been cooperating for a long time..
For heating 60 sq. M. in the restaurant "Urartu", where the ceiling height is 4 meters, it took only 3 infrared heaters TM Teplov. Thanks to the thermal calculation, it was found that Teplov P2000 is exactly the type of our equipment that is necessary to complete the tasks. Thus, thanks to the "C" shaped placement, we were able to achieve the desired result - maintaining 18 degrees during the operation of the institution and changing the temperature of the night to 10-15 degrees so that the room would not freeze and could be warmed up faster comfortable temperature during the day when visitors will be there. We were also able to make the most advantageous use of the location of the heaters so that the infrared rays covered the entire useful area where people can relax and work staff. As a result, the heating of the Urartu restaurant has become more profitable, efficient and autonomous, which is very important for business.
Few people know that infrared rays directly warm the person himself, which qualitatively affects the perceived temperature in the room. Thus, you don't have to worry that 18 degrees is not enough to create comfortable conditions, because in reality each person will receive an additional "dose" of heat directly, absolutely without any harm to infrared heating for his body.
For owners of restaurants, cafes, salons, apartments and houses, we would like to separately pay attention to the fact that the heating of the Urartu restaurant with infrared heaters did not spoil its interior at all. After all, our heaters have a stylish, slim body and are very easy to attach to any surface. Installation of infrared equipment will not require you to purchase additional equipment, construction and other materials. Our team will install quickly and efficiently, so as not to stop the work of the institution or just not to delay the owners.