Teplov successfully completed another certification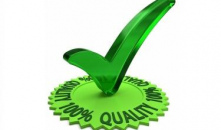 Infrared heaters TeploV once again proved their reliability, safety and efficiency, having received the European CE certificate. The testing procedure was carried out on wall-mounted equipment of modifications HT500, HT700 and HT900. Now we can say with confidence that IR heaters TeploV are the best solution for domestic, commercial and industrial use from what the Ukrainian market offers in this segment.
How was the certification
Inspection of IR heaters was carried out at the European certification center TUV Nord Baltic, Lithuania, Riga. Test criteria are taken from the European Parliament's Low Voltage and Electromagnetic Emissions Directive. It is aimed at improving the safety of using electrical appliances for people, animals, property, and the environment. In accordance with these requirements, with proper installation, compliance with the manufacturer's recommendations for operating and maintenance conditions, the devices must ensure absolute consumer safety. Products that have passed this certification are marked with the CE mark and are allowed for sale and use on the European market..
At the certification stage, the device was subjected to multi-level research:
General test. Aimed at determining the technical indicators (temperature) specified in the passport to real numbers.
Stress test. The device is tested for stability of operation at increased voltage.
Component testing. It is carried out when the device passes the first two stages of checks. It is disassembled into the smallest component parts, which are checked for compliance with environmental regulations and standards.
Wall-mounted infrared heaters TeploV have gone through all these stages, showing good results. And now each of the appliances in the wall-mounted series carries the CE mark. This opened up new opportunities for our company: heaters will be shipped to the countries of the European Union. But also residents of Ukraine will be able to buy them both through our website and through the official representative office of the TeploV company in their city. Check with our managers for all the details of cooperation.
By making a choice in favor of TeploV infrared heaters, you get reliable and safe equipment that can be trusted to create comfortable temperature indicators in your home, office, kindergarten, school and any other facility.