Heating garage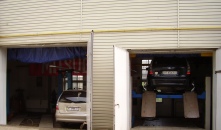 Workshop heating
Today, hundreds of infrared heaters throughout Ukraine are doing their job perfectly - efficient and economical space heating. Premises of a completely different orientation, from apartments to workshops, hangars in industrial premises. The line of industrial infrared heaters that our company produces under the Teplov brand is one of the most popular infrared equipment on the market. It includes such heaters as Teplov P2000, Teplov P3000 and Teplov P4000. All of them are intended for heating industrial premises, as well as public premises, where the load on the heating system is usually several times higher than in residential premises.
During our practice, we have heated dozens of facilities where we used these heaters in an infrared heating system. One of the interesting and striking examples of the effectiveness of infrared electric heaters is our project for heating a workshop.
It was not by chance that we chose it, because heating a car service center is a rather problematic issue. The person who encounters him must take into account that in the auto repair shop, first of all, there are large heat losses. They can not be prevented, because the cars constantly call in and out, the room must be ventilated due to work with chemicals, etc. That is why many of the classic methods of heating the service station immediately disappear, because their principle of operation is to warm the air in the room, and when the workshop repairs it, it will immediately disappear. IR heaters work according to a completely different method: the rays heat up all work surfaces and areas over which infrared heaters are installed, thus breaking stereotypes and warming up the room even with constant ventilation.
Now we turn to the exact data: the heating of the Mitsubishi workshop, which we took as an example, was carried out by our regional representative in the city of Ivano-Frankivsk, LLC Desa Service.
The boxing area of the workshop was 70 square meters. m., and its height - 4 m.
Thermotechnical calculations were carried out, which showed the need to provide thermal power for heating the workshop equal to 10 kW.
To achieve the result, 5 industrial heaters Teplov P2000 were used.
We have achieved: during working hours the room warms up to +16 degrees, and at night to +10 degrees, in order to avoid freezing.