Heating recreation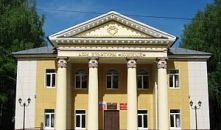 Culture house heating
Regional representative Bilan Victor, Cherkasy, together with the manufacturer of infrared long-wave heaters TM "TeploV" Company "Ukrprom" completed another object for heating the house of culture.
We were tasked with heating a hall with an area of 200 m2 with a ceiling height of 6 meters and a stage with an area of 40 m2, to create a fully-fledged autonomous heating system capable of maintaining a temperature of up to 20 degrees during concerts and 10 degrees during an idle time.
To accomplish the task in the hall, Teplov P3000 infrared heaters in the amount of 9 pieces are used; for the stage heating, Teplov P2000 heaters in the amount of 2 pieces are installed.
The infrared heating system is connected to several temperature controllers, divided into several independent subsystems. This connection allows you to use not all heaters at once. It makes it possible to organize local heating of the necessary zones, as well as to use the lower thermal power necessary for heating in warmer periods.
The results of our collaboration are presented in the photographs below..