Heating by infrared heaters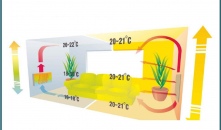 Heating by infrared heaters
In anticipation of winter and anticipation of cold weather, many began to think about how to maintain a comfortable temperature in a house, apartment or non-residential premises.
IR heating can be used both as an independent and auxiliary type of heating.
Due to its features, infrared radiation can transmit heat to individual areas of the room, as well as organize the heating of industrial premises and open areas.
Infrared heating provides heat transfer to people and objects without heat loss, which compares favorably with radiator and convection systems.
The benefits of infrared heating
Infrared heating has several advantages over other types of heating:
infrared heating systems do not require maintenance during the entire period of operation;
infrared heating systems have high efficiency and are very economical. With their help, you can significantly reduce heating costs;
infrared radiation prevents mold, condensation, damp walls and dust circulation. Scientists have proven that such radiation has a beneficial effect on human health;
unlike radiator systems, infrared ceiling heaters do not contribute to drying the air in the room and burning oxygen in it;
such heating is very compact and does not interfere with the arrangement of furniture;
the system is quickly mounted, does not have heating elements, and therefore is fireproof;
IR heaters do not create noise and heat the room in a short time.
Types of infrared heaters
There are several types of infrared heaters, which can have a different shape, weight and design features. All these indicators depend on the installation location. The following types of heaters:
Infrared convectors. This type of infrared heater is a synthesis of the advantages of convective and infrared heaters. Heat transfer is ensured by a heating element located inside the device and heat transfer from the front panel of the device.
Infrared heating is widely used, the film of which is mounted directly under the finish. Such heaters are very light and weigh only 300-500 g. Film heaters are most often used as additional heating for the workplace or placed above the bed. Guests will feel very comfortable in an open gazebo, where a film heater is installed.
Infrared heating panels are widely used in kindergartens, medical and school institutions, offices. The biggest advantage of this type of heating is its energy efficiency.