Key balcony heating systems are:
Convector
Battery
Underfloor heating system
Infrared ceiling heater
Benefits
Convector - quick assembly and disassembly. Mobility (on wheels).
Battery - connection to central heating
Underfloor heating - space saving, profitability
Infrared ceiling heater - economy, space saving
Heating Balcony, Loggia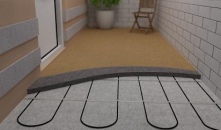 Heated balcony, loggia
Each owner of the apartment wants his house to be as convenient, functional and comfortable as possible. That is why, very often, when buying a home, we pay attention not only to the size, finish, serviceability of all systems, but also to the presence of a balcony or loggia, because they are very versatile and always come in handy. A balcony or a loggia not only adds extra meters, but with the proper arrangement can become your working corner, a place to relax by the window or for breakfast in the morning. The balcony is also useful for household purposes for drying clothes, storing various equipment, things and other things. Such a benefit from the balcony will be even higher if you make it warm and comfortable for a long stay there. Regardless of how you use your balcony (loggia) or are just going to use it, you need to properly insulate it.
Cold balconies are a constant problem of any Soviet-built houses and more. Quite often, they go beyond the end wall of the house and therefore do not warm up at all, since there are no other warm rooms from below or from above that would at least slightly block all the walls, floor and ceiling of the balcony, blown by cold air masses. The balcony may be built into the house and act as part of a large room, but still the central heating to the balconies during construction was never carried out. That is why the balcony has to be heated independently, spending your money, effort and time on it. Another disadvantage of the cold balcony is that the cold enters the room faster, completely, while not allowing the wall to exit to the balcony to warm up.
Oil heater for balcony heating.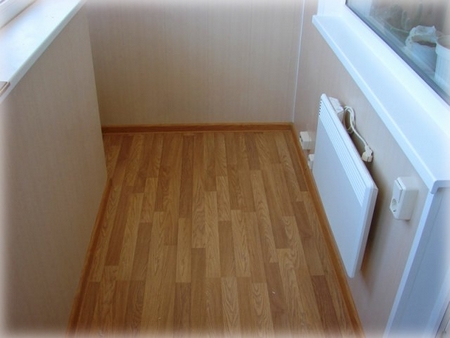 Today, this problem can be fixed using different heating methods. For example, the most uncomplicated form of heating a balcony is to put an oil heater there. Until now, many have it, well, it's also not difficult to buy it, however, before choosing such a balcony heating, you should consider all the pros and cons, and also, if possible, consider other options. The shrovetide is quite safe, it has an auto shut-off function when heated to 70-80 C, however, it does not effectively heat rooms with such cold walls and the possibility of large heat losses, which means that buying it will be completely useless.
Installing a battery for heating the balcony.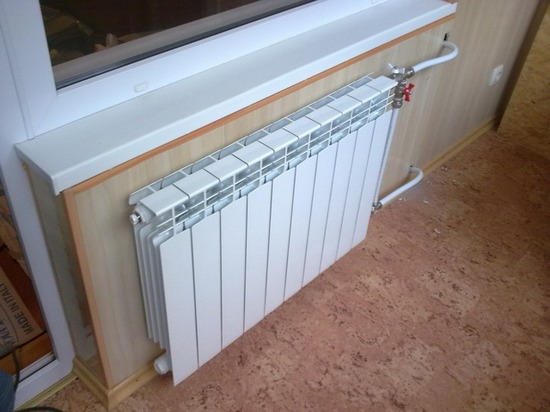 Another option is to hold the battery, connecting it with the general heating of the apartment. However, this will require sawing and welding of pipes, the battery itself, which requires a special installation site. If you decide to do the heating of the loggia yourself, then the installation of this type of heating can be very delayed and not lead to the desired result.
Balcony heating "warm floor" system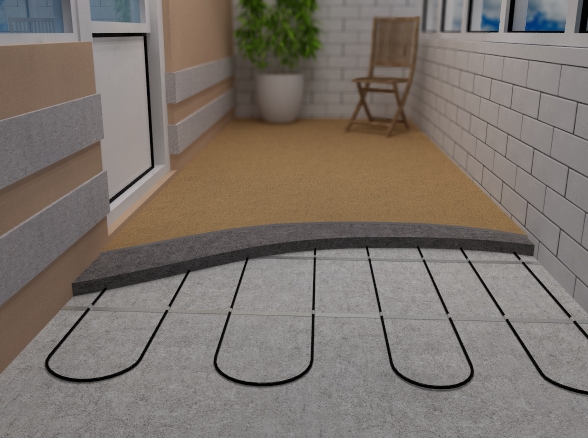 An interesting and more modern way of heating the loggia is carried out using water pipes, electric cable or infrared film. All this must be correctly laid on the floor of your balcony in a concrete screed (except for infrared film, which can be laid immediately under the cover), to provide the necessary insulation, as well as serviceability, and you can lay a laminate or other type of coating. This method of heating the loggia will provide you with the so-called "warm floor" effect, which will heat up and allow you to walk barefoot on the balcony, feeling completely comfortable. However, there is a certain drawback, which is that a warm floor is unlikely to be able to warm up the entire space to the top, therefore this system is recommended to be used with additional insulation of the walls of the balcony.
Balcony heating with infrared ceiling heater.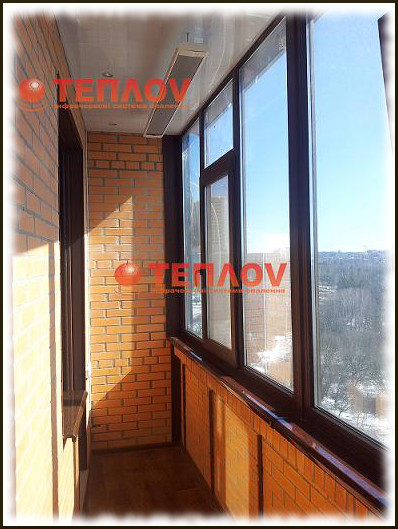 One of the best today is recognized as a method that provides heating of the balcony using infrared radiation. IR rays are emitted by long-wave infrared heaters that heat, first of all, not air, but objects, walls and floors. They are perfect for balconies, as these are small rooms that easily heat up from the warm surrounding surfaces.
Thus, infrared heating will help to quickly and easily solve the issue of heating the balcony, because their cost is affordable, and installation work will take no more than an hour.
After installation, repair of the balcony is not required, and the stylish housing of the heaters will not ruin the interior.