Heating beauty salon, barber shop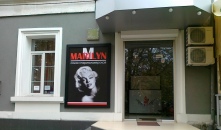 Heating beauty salon, hairdresser
Space heating today does not seem to be such a problematic and lengthy process as before. All this thanks to the new various equipment for heating, which can be easily connected to electricity and does not require additional piping, documentary permits and other things. One of the prominent representatives of such heating methods is infrared heating, which is easily achieved by installing long-wave infrared electric heaters in the room.
The company "Ukrprom" for many years has been developing and improving infrared heaters of its own production under TM Teplov. Since 2010, we have heated a huge number of objects of various kinds. For each, a unique thermal calculation was carried out, which helped to determine what type of heaters should be used for rational heating of a particular room. Infrared long-wave heaters are gaining popularity every year and have already established themselves as one of the most reliable, safe and economical methods of heating. The universal mounting method makes it possible to heat even the most inaccessible areas, and also significantly reduces the time that you need to spend on installing any other heating system. The control system, which is provided with the help of temperature controllers, helps to create the necessary temperature conditions in the room without human help.
All these advantages allow dealers of infrared heaters to quickly and accurately perform their work on installing infrared heaters for our customers. So, heating a beauty salon did not become a problem for specialists in one of our regional offices. IR heaters TM Teplov now heat 60 sq. m. in the hairdressing salon "MARILYN". Before installation, special calculations were performed that took into account the total area of ​​the room, the height of the ceilings (4 m), as well as the required temperature - +25 degrees. Thus, a hairdressing salon infrared heating system was installed and connected in two rooms (35 and 25 sq. M.)
The heating of the beauty salon and hairdresser became economical when we installed 4 Teplov B1350 domestic heaters and one B1000 heater. A bimetallic temperature controller was also installed in each room, which made the system independent of human intervention..