Heaters TeploV 15 years! Join our anniversary!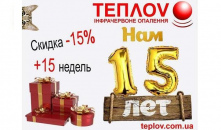 February 1, 2020 we, Ukrprom Company LLC, a manufacturer of infrared heating systems TM Teplov, celebrate our anniversary. For 15 years, we successfully solve the problems with heating in the home and at work. Over the years, our products are recognizable and have a good reputation not only in Ukraine, but also abroad.
On a birthday, it is customary to give gifts to a birthday person, but we break stereotypes as we used to break stereotypes about the dangers of infrared heating.
From February 1, 2020, for exactly 15 weeks, we lower the retail price for products to 15 percent, depending on the model.
And that's not all!
Regardless of the amount of the order, with each shipment we will invest a small surprise from the company!
Thank you for being with us! Indeed, thanks to you, we are developing and becoming better!