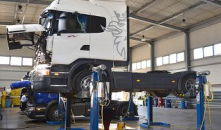 Heating service station trucks
High-quality repair of a truck is difficult to produce in a cold unheated room. The hands of the master must feel the mechanisms during operation. The heating of large rooms with high ceilings, like at the service station of trucks, in the recent past was an insoluble problem, which infrared heaters helped solve.
Fast, uniform and easily adjustable heating is made possible thanks to modern technology. The new generation infrared heaters are economical and easy to use. Their cost is many times lower than outdated systems of steam, gas or other types of convective heating. Installation takes from several hours to several days.
Working warm - high profits
Comfortable working conditions for employees are the key to high productivity and quality of work performed. The profit of the service station depends on this. Ceiling infrared heaters of the TeploV P4000 model were used to heat a room of this scale, which replaced the existing gas infrared heaters.
This industrial model was developed by specialists to work in extreme conditions with low temperature and in the absence of other types of heating.
One infrared heater is designed for heating an area of up to 40 square meters with a suspension height of up to 20 m:
to the ceiling
to fixtures for lighting
on separate brackets and cables.
Having installed a set of infrared heaters for heating service stations of TIR trucks in the Rivne region, the customer received a stable room temperature at minimal cost. Infrared heaters do not require special maintenance and care, easy to operate.
Today it is the most economical and productive type of industrial heating. Sensing this, the customer modernized a subsidiary in the Lviv region, installing the same models of infrared heaters at the second service station.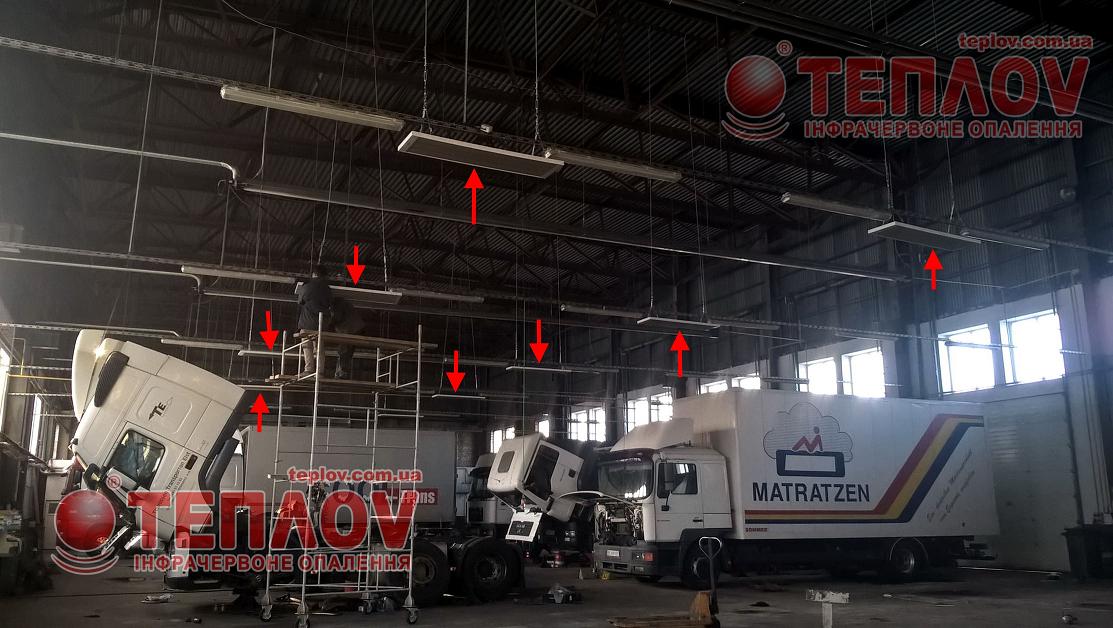 Warranty period of operation of heaters is 10 years, practical - not less than 25. The payback of this type of heating exceeds any alternative.
Advantages of installed infrared heating TM TeploV:
autonomous heating of the entire area
local heating of the necessary zone (with incomplete loading of the room)
different temperature conditions in different areas of the room
does not require permissions and approvals
return on investment over 2 years
World-class quality
The company "TeploV" for more than fifteen years, has been developing and producing ceiling heaters. Today we are leaders in our industry in the Ukrainian market and hold high positions in the markets of Europe and the Baltic countries.
It is in your hands to increase the profit of your own production, providing "warm" working conditions for employees. To do this, go to our website, select and buy infrared heaters. By phone +380 57 7558551 company managers will provide advice, place an order and delivery.