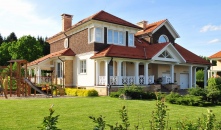 Private house heating, Vinnytsia region
Each of us dreams of a cozy and comfortable house, where it is pleasant to return every day. The Ukrprom company has been helping its customers all over Ukraine to create such a house for many years. When it comes to buying an infrared long-wave heater, we, like no one, know how important this is. Products TM Teplov speaks for itself. Long-wave infrared heaters easily cope with the task of heating a private house, as well as with heating any other residential and non-residential premises. If you want to provide yourself with a modern, high-quality and economical heating method that will bring you ease, both in installation and in use, then you have come to the addressу.
On our recent project of heating a private house in the Vinnitsa region, we can demonstrate all the benefits of infrared heating. Firstly, the installation of all B1350 Teplov heaters took place in one day. If you are not haunted by the thought that IR heaters can somehow spoil your interior or ceiling decoration, then we can easily install the necessary appliances in your home without unnecessary inconvenience and subsequent repairs, since you will not need them.
Secondly, infrared heating is completely safe for you and for your family members, including the smallest. Studies have shown that the radiation in such heaters is similar in its thermal spectrum to solar heat and affects the human body only positively, directly heating the liquid in human skin cells.
Thirdly, long-wave infrared heaters do not cause inconvenience regarding drafts, outflow of hot air to the ceiling, do not create noise and unpleasant odors. And that's not all the benefits of infrared heating. A programmable thermostat installed to control the heating of a private house in the Vinnitsa region helps to control the room temperature.