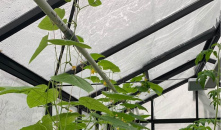 Greenhouse heating prompted by nature
Many greenhouse farms, both large and small, had to curtail their business due to the constant increase in energy prices. It became unprofitable to heat the greenhouses. Today, those farms that have switched to modern types of autonomous heating remain "in service".
The installation of infrared heaters in a polycarbonate greenhouse of one of our customers allowed us to achieve the required temperature at minimum cost. The TEPLOV company is one of the first to introduce infrared technologies in agriculture. The heat from the heaters is transferred directly to the soil and plants, and experience has shown that this increases the germination rate and increases the yield up to 30-40%.
Ecological Agriculture Center recommends infrared heating in greenhouses
According to studies of the Center for Ecological Agriculture in the city of Dnipro, when the greenhouse was heated by infrared heaters to an air temperature of +21 C, the soil temperature was +28 degrees. Plants developed in accordance with a temperature of +28. This temperature difference creates a number of advantages when growing crops in greenhouses.
Infrared heaters are the most economical type of autonomous heating. They can be quickly mounted, there are no difficulties in operation. They are not afraid of dampness and are absolutely fireproof. In the polycarbonate greenhouse, now a regular customer, ceiling heaters of the TeploV B1000 model were installed. This heater is designed for primary or secondary heating in rooms with a ceiling height of over 2.4 m.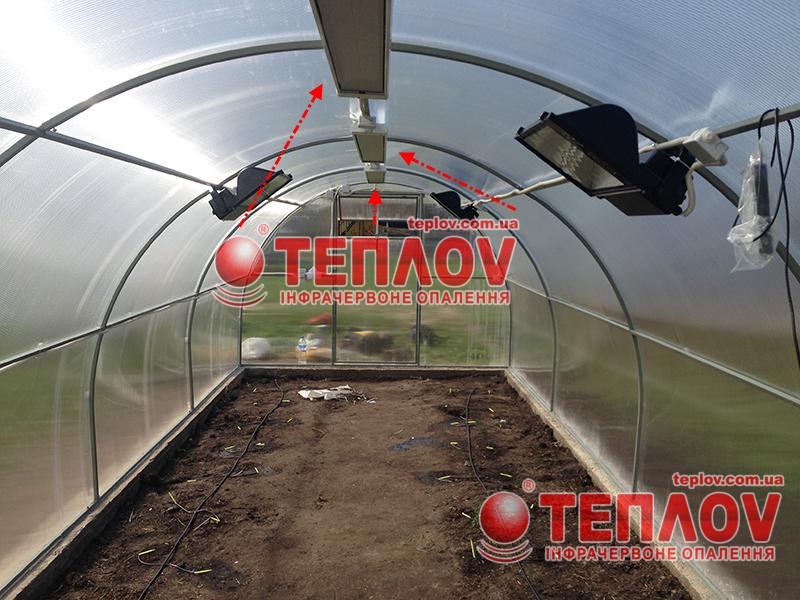 A fully autonomous system allows you to independently adjust the temperature in the greenhouse. The heat from the IR heaters is identical to the sun, so it is not surprising that plants like it. Higher yields, profitability in comparison with other types of heating, these are precisely the factors that contribute to the development of the greenhouse business, when applying infrared heating.
Turnkey heating of the greenhouse from the manufacturer
TM "TEPLOV" goes to meet its customers and provides free advice. If you decide to buy infrared heaters for the development of the agricultural business or personal goals, we will help you decide on the desired model, quantity, installation height. We also provide installation services or recommend reliable regional partners.