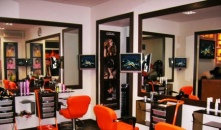 Heating beauty salon, hairdresser, Chernivtsi
If you are the owner of a beauty salon, hairdresser or just planning your business in the "beauty" industry, on this page you can find an excellent solution to the issue of heating a beauty salon. Clients, current and future, will be happy to experience not only the result of the skillful hands of the master, but also the warm waves of our infrared Heaters. Why are we so sure about this? We just know all the advantages of infrared heating in a beauty salon, as well as the fact that the cold in the room does not contribute to a good atmosphere and the desire to return to the salon again and again for new looks. We can offer you an excellent, economical and convenient solution that will make the cabin warm, comfortable and will not lead to large costs for installation and use, as is often the case when choosing convective heating systems. IR heaters will be able to warm up individual zones in your beauty salon, as well as the entire room, thus becoming the main heating. You will never hear from our heating equipment unpleasant noise and smell, regardless of the duration of the work and its intensity. Also, especially to maintain the style and a unified design solution, we will gladly repaint the thin cases of infrared heaters in the color you need so that they fit even better into the interior of the beauty salon. Installation of such heaters takes place in a matter of hours. To do this, you can invite both our specialist and do it yourself, because you only need basic knowledge in wiring and mounting fasteners to the ceiling, on which heaters will then be hung. The IR method of heating a beauty salon is the best suited if you rent a room, and if you change it, you don't want to give the lessor an equipped heating system. In this case, Heat Heaters can be easily removed and fixed in any other place..
Heating of the hairdressing salon in Chernivtsi was quick and high-quality, the owners and staff were satisfied with the result, because the heaters did not occupy the workspace of the masters, which means that they did not have to rearrange, allocate a special place for the units, which especially pleased all workers.