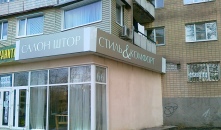 Heating shop "Salon curtains", Kharkov
Arranging your own home is a very important and enjoyable task. Where, if not in my apartment or in the house, I want the atmosphere to be as suitable as possible for my mood, preferences and state of mind. Shop "Curtains Salon" helps its customers add colors, comfort and coziness to the interior, choosing the right curtains for every taste. Shop "Curtains Salon" in a special way brings warmth to every customer's house, helps to complement the design of the room with interesting details, textures, because curtains are also very different.
We, in turn, helped warm the employees and buyers of the curtain salon not only with warm memories, but also with TM Teplov, a high-quality innovative infrared heating system. To do this, we installed several long-wave infrared heaters in various working areas to ensure maximum effect. Each of them is connected to a single network, which is controlled by a programmable temperature controller. The display shows such significant indicators as the supported air temperature and the operation mode of the heaters. You can also install an automatic temperature controller that will independently control the heating process, switch day and night modes, set the required temperature for them.
Infrared heating has a number of indisputable advantages, including over convective heating systems. First of all, this is a direct effect during heating on objects that surround a person, as well as on himself. This effect, of course, is positive, and is not accompanied by any mythical exposure from infrared rays. In this case, it is worth talking about direct heating of solid surfaces, which subsequently heat the air. This principle of action has a positive effect on your wallet, because it helps to significantly reduce energy costs for heating the air, and hence the heat consumption with electricity from which the heaters work. They are also absolutely easy to install and do not occupy a working space, do not require a separate room (like boilers) and additional pipe fittings.