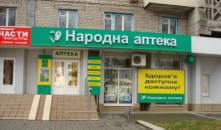 Heating pharmacy infrared heaters, Ivano-Frankivsk
By installing infrared heaters from the manufacturer now in the pharmacy, our company has once again proved that quality and versatility know no boundaries and obstacles.
IR heating from the Teplov company now also operates in a pharmacy in the city of Ivano-Frankivsk, which is another step towards a more comfortable life, because such a heating method is suitable for any area of a person's life, which means that now you don't have to select and calculate losses from obsolete heating systems.
Pharmacies, like many others that are not intended for human habitation, can easily be heated with infrared heaters attached to the ceiling with the required power. You can learn the details of such opportunities from other articles on our website about heating industrial, residential and agricultural premises, where our specialists tried to analyze in detail all the advantages and disadvantages of modern heating systems, including infrared long-wave heaters.
The owners made the decision to heat the pharmacy in this way for a reason, because it was our experts who repeatedly proved in practice that they are most prepared to provide warmth and comfort where there are special conditions for the content of materials or products. In this case, it was important not to exert excessive effects on drugs that have an effective molecular structure and must be kept under strict storage conditions..
Infrared heaters are able to stably and evenly heat the room, without having a special effect on drugs. That is why, for our part, we can confidently say that we did everything so that the drugs in the pharmacy do not spoil from an ineffective and unsafe heating system.