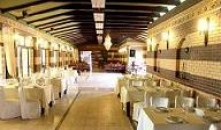 Heating of the restaurant "Nairi", Kiev region
Heating of cultural institutions is always especially interesting for us. Restaurants, clubs, cinemas often have their own style, atmosphere and Ukrprom company gladly helps to complement the idea of the establishment with a warm atmosphere, because the creation of a heating system is very important for places where people want to have a good time, chat and just warm themselves with a cup hot tea.
Heaters with infrared radiation TM Teplov will easily help you in providing your restaurant with a safe and profitable way of heating. Only infrared rays today make it possible to directly warm all surfaces in the room and even people themselves, which allows a person to feel a temperature higher than the temperature of the air itself in the room. These advantages did not leave indifferent our next customers. Now, visitors to the Nairi restaurant in the Kiev region will feel comfortable even during a certain drop in temperature, both in the room itself and on the street. All this affects the efficiency of infrared heating and, of course, only for the better..
Thermostats allow you to set several heating modes of the Nairi restaurant at different times of the day. Especially at the request of the owners, Teplov P4000 infrared ceiling heaters were painted in golden color, which allowed us not to disrupt the design idea in the restaurant. It is important that IR radiation is not light, therefore, it does not spoil the composition of lighting in the institution. The installation of such heaters does not lead to additional finishing or even repair work, because they can be fixed on metal cables, which are easily mounted in any type of ceiling.
Summing up the work on the heating project of the Nairi restaurant in the Kiev region, we can confidently say that the installed infrared heating system will be a reliable assistant in creating a warm and pleasant atmosphere for each visitor.