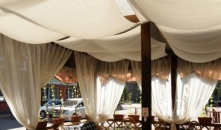 Cafe summer area heating
Our company today already has vast experience in heating all kinds of premises of various kinds. The features of each individual place where it is necessary to install infrared heaters affect everything from the location of the units to their power. The appearance of infrared ceiling heaters is also very important, because in our practice there were a large number of customers who needed to bring our equipment to the same style with the room. Most often it is fundamentally important for cultural and entertainment venues, where the interior plays an important role in attracting customers and creating the necessary atmosphere.
The heating of the summer area of the cafe is no exception. Most often, summer terraces in cafes do not have heating in common with cafes, which entails the need to install an autonomous and economical way of heating, since summer platforms are a seasonal phenomenon, and heating should not cause many problems. Thus, infrared heating is best suited, because, first of all, heaters are mounted in just a few hours, do not spoil the decor elements and do not require major repairs and subsequent finishing work.
It is important that you can always accurately regulate the temperature in the rooms with the help of temperature regulators, or even trust in programmable regulators that will independently set the indicated temperature without failures and risks for others.
IR rays cope well with heat loss, because they do not heat the air, which quickly disappears, but the objects themselves and people, which creates an even more comfortable environment without drafts and sudden changes in temperature. There is the possibility of a night heating mode, when the temperature drops to the required level and maintains a minimum level of heat so that in the morning the heating process does not have to be resumed again.