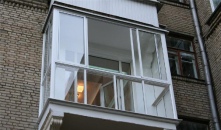 Balcony, loggia heating, Kharkov
It's no secret that the balcony is the coldest place in most old apartments, and even in new buildings. When the temperature on the balcony drops below the permissible level, the cold makes its way to the neighboring rooms and creates a lot of discomfort to the residents. Therefore, it is really important now to solve the problem of heating the loggia or balcony in anticipation of autumn and winter frosts. Every six months you can tape up the cracks in the windows with tape, special tapes or other devices, or you can make a more modern choice - trust our specialists who will make the necessary calculations and equip any of your premises with modern and trouble-free infrared heaters.
Our company is capable, and has really not a small experience in solving problems of this kind. Most recently, we have heated the balcony of an apartment in a multi-storey building in the city of Kharkov. For this, a long-wave infrared Teplov B1350 infrared heater was used. This model was created specifically for installation in an apartment, a private house and any other residential premises, it is simple both in installation and in dismantling and perfectly copes with the function of the main heating system. Now the balcony in this apartment is not used as a warehouse for useless things, but as a full-fledged room in which you can spend your free hours at any time of the year with pleasure.
Heat production does not require absolutely any technical knowledge for installation and dismantling. You just need to fix the heater on the wall or ceiling, connect it to the electric power supply network, connect and adjust the temperature regulator according to your preferences and you are ready - now your balcony will withstand even the northern frosts and will become another of your favorite place in the apartment.