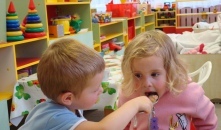 Heating of children's institutions, Vinnytsia region
Infrared long-wave heaters from TM Teplov now warm children and employees of one of the kindergartens in the Vinnitsa region. We were very pleased to complete this project, since the decision of the educational institution to install just such heating proves once again that infrared heating is absolutely harmless even for the smallest. We are often asked questions about the effect of infrared rays on humans and we always declare with confidence that exposure to long-wave infrared heaters under thermal radiation is absolutely safe and even favorable, due to the nature of infrared rays. They penetrate the body and surrounding objects to a depth of about 4 cm, which contributes to the warming of the soft tissues of the human body, regardless of whether there are drafts in the room, streams of cold air or a sharp decrease in temperature. When heating with such devices from the Ukrprom company, you can always be sure that you and your family are under reliable protection of heat, which by its nature converges with heat, which we usually get from sunlight.
Heating a children's institution in the Vinnitsa region required the installation of six high-quality and certified heaters Teplov P2000 and one Teplov B1350. In order for the room temperature to be stable, and the infrared heaters to operate economically and correctly, we installed programmable thermostats at a height out of the reach of children so that they could not harm themselves and the system. Further use of infrared heating made it possible to compare the cost indicators for heating a kindergarten when using a boiler in the past and with current heating by infrared heaters. The results speak for themselves - the cost of winter heating in the period from 2012 to 2013 amounted to about 3000 UAH. Which is about 4500 UAH. less than when operating an electric boiler, which, moreover, did not create high-quality heating of the rooms where the children were. The creation of such comfort, safety, along with a real reduction in the cost of heating facilities, we can certainly call excellent work!
Who agrees with us and is ready to experience all the advantages of IR heating - welcome to the era of a new, high-quality and economical method of infrared heating.