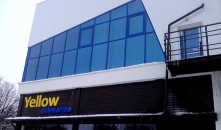 Pub heating Yellow Submarine, Rivne
The most popular holiday destinations for young people after a hard day's work or on weekends around the world are pubs where you can have a good time, chat with friends in a relaxed atmosphere, have a drink for a meeting and have a lot of fun. On the streets of each city, you can find dozens of such institutions for different tastes, which can differ both in design and orientation (watching football, organizing concerts of local groups and more).
In some European countries, spending an evening in a pub is a mandatory procedure, or even a special cult, when on Friday after six hours large companies of employees go to rest in one of these institutions. In Ukraine, in every city, popular cafes usually become those that were able to win the greatest guests 'location. Such success is achieved through a comfortable environment, good and friendly service, as well as quality food and drinks, which visitors will advise all their friends..
Our company will help you to complete the first of three points, which are the key to success in any pub. TM Teplov infrared ceiling heaters will create an amazing atmosphere with the help of silent and universal heat supply in a room where neither owners nor visitors will have to think anymore about the fact that cold or drafts can interfere with relaxation.
The owners of the YellowSubmarine pub in Rivne already enjoy such comfort and feel free to welcome guests at any time of the year, knowing that they will always be warm and comfortable under absolutely harmless infrared radiation.