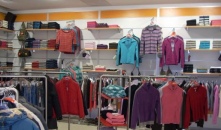 Heating store, Rivne
Another infrared heaters found their satisfied customer. Now our heating system of the 21st century works in one of the outlets in the city of Rivne. This pavilion specializes in selling clothes for large and small, pleasing with quality and reasonable prices..
We, in turn, also make shopping at this outlet easy and enjoyable with the help of long-wave infrared heaters that get along well in any room. Their universal mounting method, namely on the ceiling, helps to save space and evenly heat the rooms as much as you need. The rays of the infrared heater carry the nature of solar heat, because they are heated according to the same principle.
Heating of the outlet is another proof that our equipment of TM Teplov is deservedly gaining popularity as the most efficient, cost-effective and convenient way of heating. If you are still in doubt and prefer to think, then here are a few more advantages of IR heaters that will not leave you indifferent.
First of all, such heating does not adversely affect the human respiratory system, it is absolutely safe for people prone to asthmatic attacks of coughing, since it does not dry the air and does not raise dust in the room with air currents. Our company also took care of convenient regulation of the entire heating system and for this it is necessary to install thermostats that will help you to always be aware of the heating temperature, schedule and other functions.
These are far from all the advantages of IR heaters, so if you are interested, we will certainly help you in choosing and ensure fruitful cooperation..