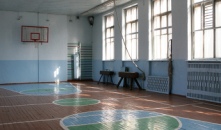 Heating of sports facilities, Rivne
Children's health is what heads of all educational institutions should first of all worry about. The installation of infrared heaters for heating sports halls is an excellent solution, which testifies to the foresight and care of the small and large athletes who will be involved there. To date, they have not yet come up with a better way to quickly warm up such large rooms with the simultaneous heating of all equipment that would exceed infrared heating. Speaking about the features of its use for heating sports facilities, it is also possible to note the ease of installation and the drive to working condition, amazing autonomy in work, as well as proven profitability.
Heating of the gym in the city of Rivne became real thanks to the work of specialists from our regional representative office who did an excellent job and installed infrared heaters TM Teplov for heating a large-sized room that needs to be constantly maintained at a temperature of 18 degrees. Also, thanks to the unique method of influencing infrared rays on the entire environment, athletes and trainers can not worry about what they will do with cold equipment and on cold mats. IR rays can penetrate with heat all objects and even people.
Gym heating is a great and simple example of how we can help you heat any room of various sizes using long-wave infrared Heaters Teplov, so that you forget about problems with outdated convection systems or boiler equipment.
Welcome to the world of innovative heating Teplov!