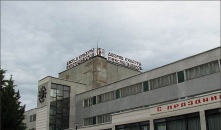 Heating of the house of culture and gym "Textile worker", Rivne
Our employees helped establish another infrared heating system, and this time we were engaged in heating the house of culture in Rivne. Thanks to the unique properties of our heaters, we managed to heat several large-sized rooms where children and teachers are engaged daily.
Infrared heating has become the most profitable option, taking into account all the properties of the building of the house of culture, the area of ​​the heated area, the height of the ceilings. To heat the hall for choreographic performances and sports purposes, we needed to install TM Teplov infrared long-wave heaters, which without obstacles could be fixed on the ceilings of these halls. This arrangement provides the most effective heating of the working area of ​​a person, which is located below and is now freely heated by infrared rays.
During training and any physical activity, clean, fresh air is needed, which was also taken into account by our experts. It is infrared heating in this case that will perfectly cope with the preservation of heat in the rooms even during ventilation, not to mention the forced heat loss through cracks in the windows and at the joints. For children, there is nothing better than such heating, because it is completely adjustable with the help of simple temperature regulators, where you can easily set a different temperature if it became stuffy during classes and an open window is fraught with a cold.
Infrared heating a culture house is a prime example of how to combine efficiency, safety and quality.