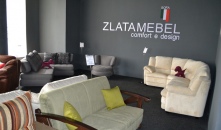 Furniture salon heating, Rivne
Easy (literally in one day) installation of infrared heating, the possibility of universal use, silent operation and the effect of "solar heat" now delight visitors and one of the most popular furniture stores in Rivne.
The features of the premises that are commonly used for the sale of such types of goods with impressive dimensions such as furniture are high ceilings, large glass windows all over the wall and the inefficiency of conventional heating systems. All this forced the owners of the furniture salon to consider alternative heating options for such a hangar type room, where there are sufficiently large heat losses and a different number of zones that need to be heated.
After careful thought, advice and calculations, it was precisely infrared heating that was chosen as the most optimal option not only for sufficient heating of the furniture offered, but also to provide customers with a comfortable selection process. Also, in furniture stores it is important to always maintain the correct temperature to maintain the quality of wood, fabric and other materials from which the proposed kitchen sets, living rooms, children's furniture and more are made.
The ability to install IR heaters on the ceiling and the unique heating method became those important characteristics that were primarily considered when choosing a heating system for this furniture salon.