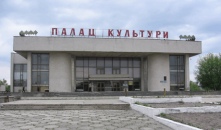 Heating of a culture house in Stepanki village, Cherkasy region
We are used to enjoying the warmth and not thinking about the upcoming frosts when it is summer outside. However, time flies quickly, so we advise you now to think about how you can heat large non-residential premises, if you have such a need. Oversized rooms mean such rooms as gyms, concert halls, classes, corridors, halls, dressing rooms and industrial premises (workshops, warehouses, production areas). The development and equipment of our company has long been recognized as the best in the field of infrared heating. We have proven that we can install quickly and reliably any complexity heating system based on the infrared heating method.
Long-wave infrared heaters TM Teplov have already been successfully used for heating a house of culture in the village of Stepanki, Cherkasy region, where we had a lot of work to do. Its essence was to create a unique heating system that was specially selected for calculations, which would provide heat to the entire concert hall with seating areas of 200 m2, as well as the stage itself with a partial capture of the backstage area of ​​40 m2. We quickly and efficiently calculated the necessary indicators, carried out a preliminary selection of heaters of different capacities for a more flexible heating schedule, and set about installation. This stage takes a little time and can only be complicated by the very parameters of the room (ceiling height, accessibility of the installation site), so we quickly fixed the infrared heaters to the desired height and connected the system to special temperature controllers that can satisfy the need for temperature differences for certain periods.
So, during concerts, nine Teplov P3000 heaters and two Teplov P2000 heaters on stage will maintain a temperature close to 20 degrees, and on normal days the hall will be served at a temperature of 10 degrees. At the same time, it was proved that for warming up the hall to 20 degrees there is no need to start intensive heating a few days before the concert, just change the thermostat settings in a few hours and everything will be ready.