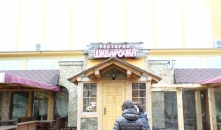 What could be tastier than our native Ukrainian cuisine? Japanese sushi, Italian pasta and pizza can quickly get bored, but food that is not only sweet for our stomach, but also for our souls, food that is not just well-prepared foods, but part of the national culture, can always please you. Tasty dishes prepared with love and a warm atmosphere await you in a very cozy place - the Shkvarochka restaurant in Rivne.
The name itself may already have caused some appetite, and now think what will happen when you start to consider the menu? It's very easy to enjoy spending time in this institution, and it's not without reason that we so confidently declare it!
Our Teplov heaters will now be able to warm your hearts in Shkvarochka, where we installed modern infrared heating around the perimeter so that no guest feels in any way deprived of care and comfort in this establishment.
Our company is very fond of giving high-quality and stable heat to every home, to every establishment and premises where we are needed. You just need to contact us and you will understand how you made the right and profitable choice..
TM Teplov infrared heaters will maintain the temperature you need in the room so that those present do not want to go outside, wherever they are. Shkvarochka is not the only place our specialists managed to visit, therefore we invite you to any of those establishments where we installed infrared heating in order to independently evaluate this modern and unique heating method.