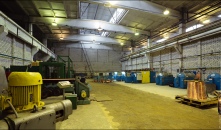 Heating workshop LLC NPP Sapriz, Kharkov
Every day, when they come to work, the employees of Sapriz NPP LLC in Kharkiv can now not worry about a sharp cooling or early winter if they are employed in the workshop. After all, it is the heating of the workshop with electricity using infrared heaters that gives the heaters the opportunity to feel protected at work under any conditions of capricious weather. Each of the nine Teplov P3000 heaters is connected to one of the three thermostats, which removes the question of the need for constant monitoring of the heating system and does not require unnecessary intervention during the work process. Thanks to the phased launch of each of the three groups, we were able to achieve a high effect in saving heating costs. Due to the fact that heaters with infrared radiation immediately heat everything that falls under the influence of rays, workers' shops, as well as equipment, get their dose of heat, and do not draw it from gradually warming air. Thanks to this direct heating, the heat is consumed more slowly and does not go into the gap with the air.
16 degrees is the minimum set temperature that long-wave infrared heaters Teplov P3000 must provide when heating the workshop with electricity from LLC NPP Sapriz in Kharkov. However, if you reprogram the thermostats, you can achieve greater returns when working. We suggest that you independently verify the convenience, power and quality of infrared heating from our Ukrprom company, because our heaters can be installed absolutely anywhere you need. Individual selection and calculation of the power of heaters, immediate installation, as well as assistance with putting the system into operation - this is what we guarantee you for our part. You only need to make a decision in favor of infrared heating and your willingness to change all your ideas about existing heating systems.