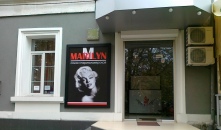 Hairdresser heating, Simferopol
We have more than once helped enterprises, firms, companies and entrepreneurs working in the service sector to make their work better with the help of an infrared heating installation. Infrared long-wave heaters are a new generation of devices among old and familiar, but far from ideal heating systems and the closest to the heat that a person radiates. Among the main advantages of infrared heating installed in the workplace are the following: absolute absence of noise during operation of long-wave ceiling heaters, ease of installation and use (temperature control using special heating controls, plus the ability to set several automatic modes). An absolute advantage is the quality of heating itself, since infrared rays warm a person and reach a depth of 4 cm, which creates a unique effect of sensing heat even in a cool room or a room with drafts and large heat losses.
The installation of such a heating system for a hairdresser in the city of Simferopol is another proof that IR Teplov heaters can be used in completely different rooms with different focuses. In this project, we fixed the heaters in two working rooms of the hairdresser, where the work process is constantly ongoing. It is worth noting that infrared heating has a positive effect on human health, so guests of the salon can not worry about a long stay under the rays of such heaters - the products fully meet European standards and are absolutely safe for human life. Now, the installed IR heaters Teplov B1350 (4 pieces) and Teplov B1000 (1 pc.) In rooms of 25 and 35 m2 can easily provide comfort and a warm welcome to every guest at the hairdresser in Simferopol.