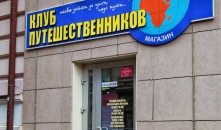 Heating shop "Travelers Club", Kharkov
Traveling is wonderful! "- consider the owners and guests of the Travelers Club store in Kharkov and we cannot disagree with them! At any time of the year, you can go on an exciting journey both in our country through its unexplored expanses, and abroad. The choice of route is yours, but a store that has everything that a traveler needs (a novice or already with experience) will help you get ready for the trip.
Just as the "Travelers Club" helps you to make your vacation comfortable, exciting, and most importantly safe, so we helped this store to make its stay in the future for the conquerors of mountain peaks and dense forests as well as economical for the owners. Heaters TM Teplov undoubtedly cope with the heating of the store, which has a huge amount of equipment for all kinds of tourism, from climbing and ending with orienteering.
It doesn't matter where you spend your active holidays - on the seashore or where only rare birds fly, take a look at this store, because in addition to quality goods, you can still enjoy a warm, comfortable atmosphere. It is our long-wave infrared heaters that guarantee the creation of such an environment when heating the store, in which guests and customers will want to wander between shelves for longer and be sure to purchase something that will remind them of such a long-awaited trip.