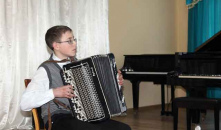 With the use of infrared (IR) heaters TeploV, you can organize efficient and cost-effective heating of various objects. And we managed to prove this once again in practice. We have designed and installed a heating system in a music school in Vinnitsa region using ceiling and wall infrared heaters of our own production. The object was able to abandon the centralized heat supply, but not at the expense of the comfort of staying in the room. The infrared heating system of the school fully complies with the regulatory enactments and SNiP requirements for educational institutions.
Equipment that was used to heat the school
When designing the heating system for the music school, we used ceiling and wall models of IR heaters: P2000, B1000, B1350 (ceiling) and NTB900 (wall). The equipment was selected individually depending on the area of a certain room, its configuration and heat losses. The combination of ceiling and wall heaters of different capacities allowed us to create a heating system optimized for a particular room, which increased its efficiency and minimized energy costs.
IR heaters TeploV are able to work effectively both in the off-season and in winter:
Model P2000. 1 heater is capable of creating and maintaining a temperature of 20 C in a room up to 20 m2 at an outdoor temperature of up to minus 26 C and in rooms with an area of up to 30 m2 during the off-season (up to minus 4 C).
Model B1000. One heating device will be enough to maintain a comfortable temperature of 20 C in a room with an area of 10 m2, if it is minus 20 C outside, and 15 m2, if outside the window is not lower than 5 C.
Model B1350. 1 ceiling heater is capable of maintaining a temperature of 20 C in a room of 13 m2 in winter (if it is minus 20 C outside) and 18 m2 in autumn and spring (up to 5 C).
Model NTB900. Under similar conditions (in winter up to minus 20 C, in the off-season up to 5 C), one heater will be able to maintain the temperature at 20 C in a room with an area of 18 and 22 m2, respectively.
All models are distinguished by stylish, modern design made in the same style, which made it possible to harmoniously fit them into the classes of the music school. Ceiling heaters can also be suspended or mounted directly to the ceiling. We chose the second option due to the size of the premises.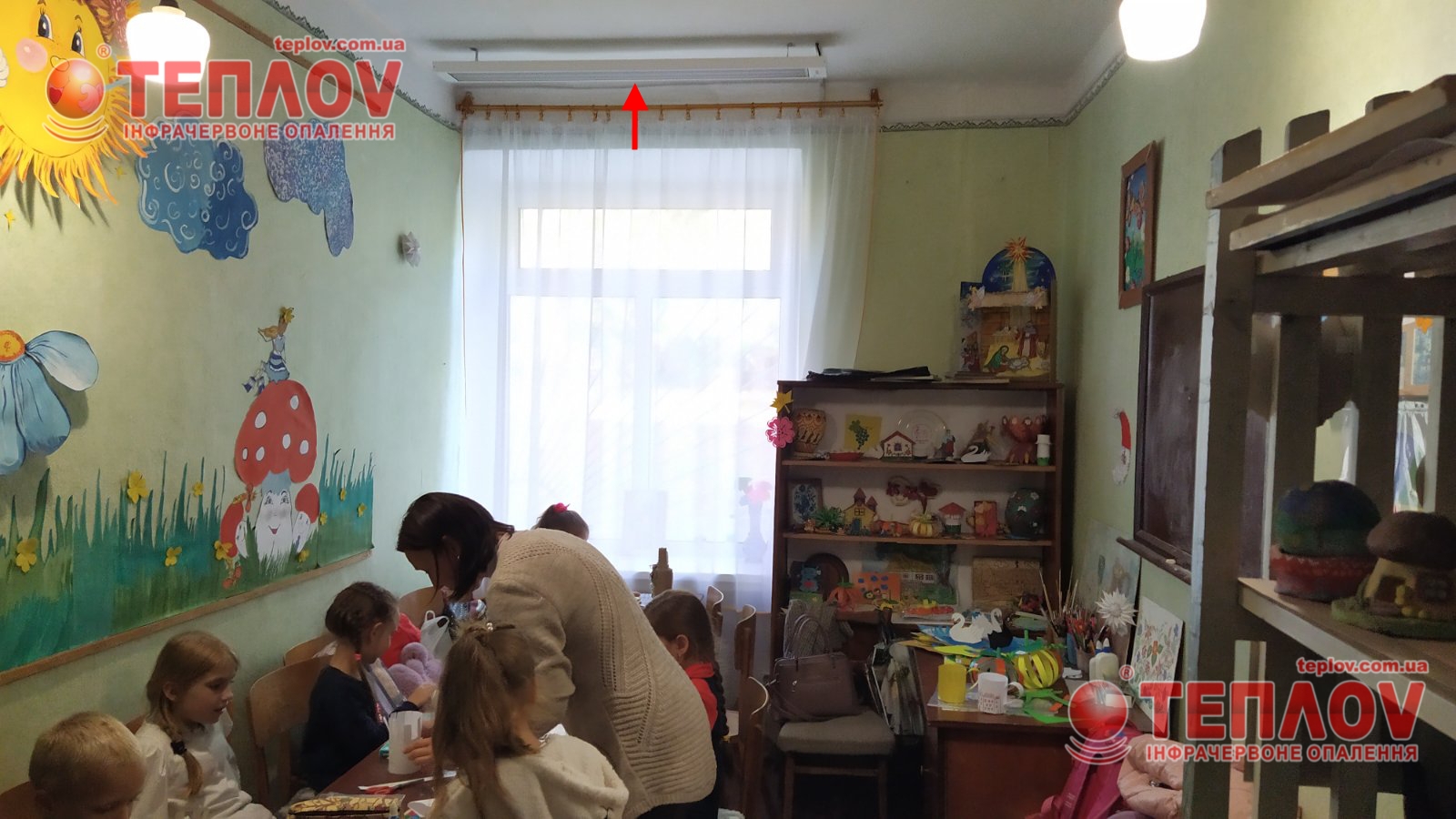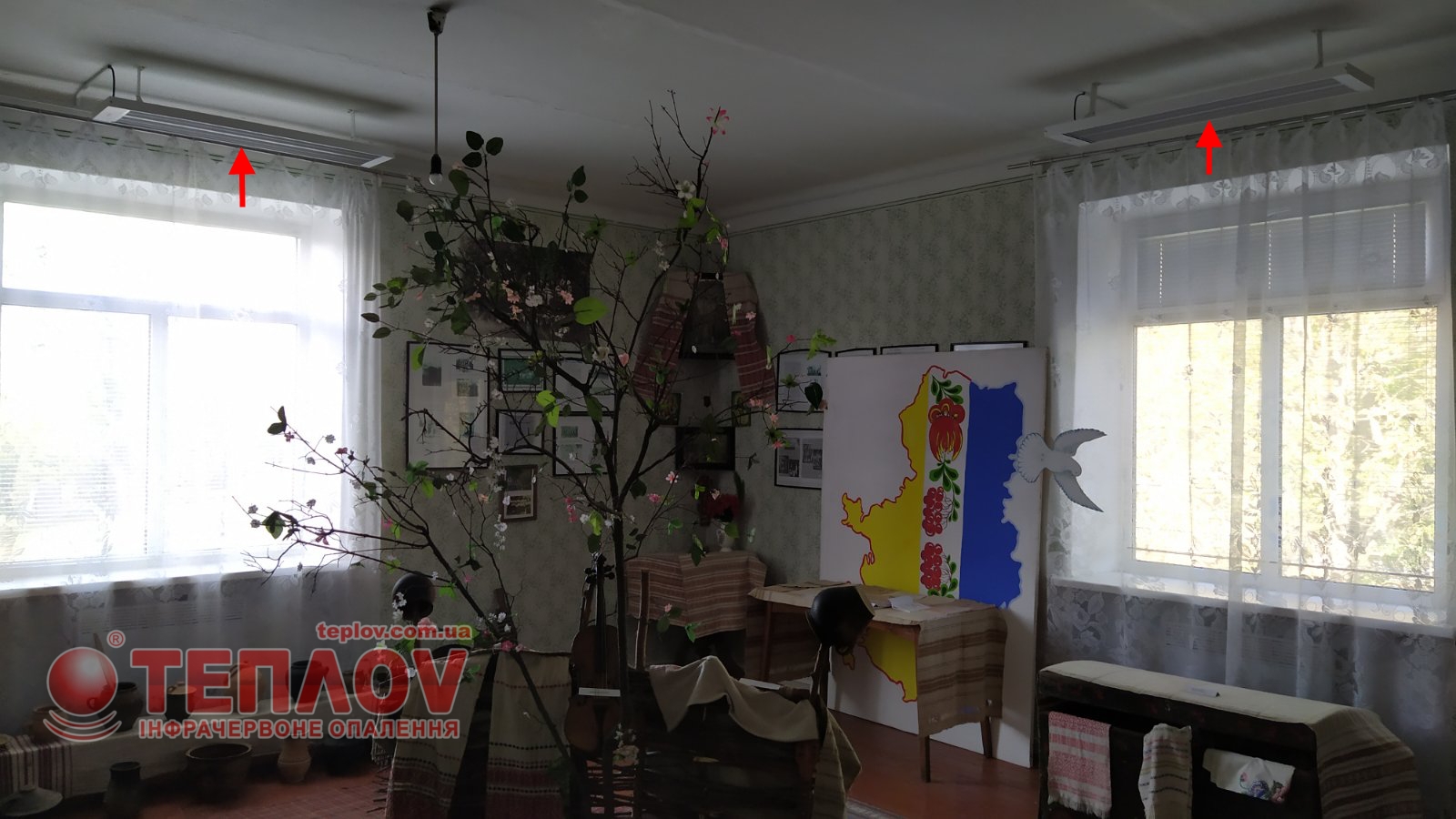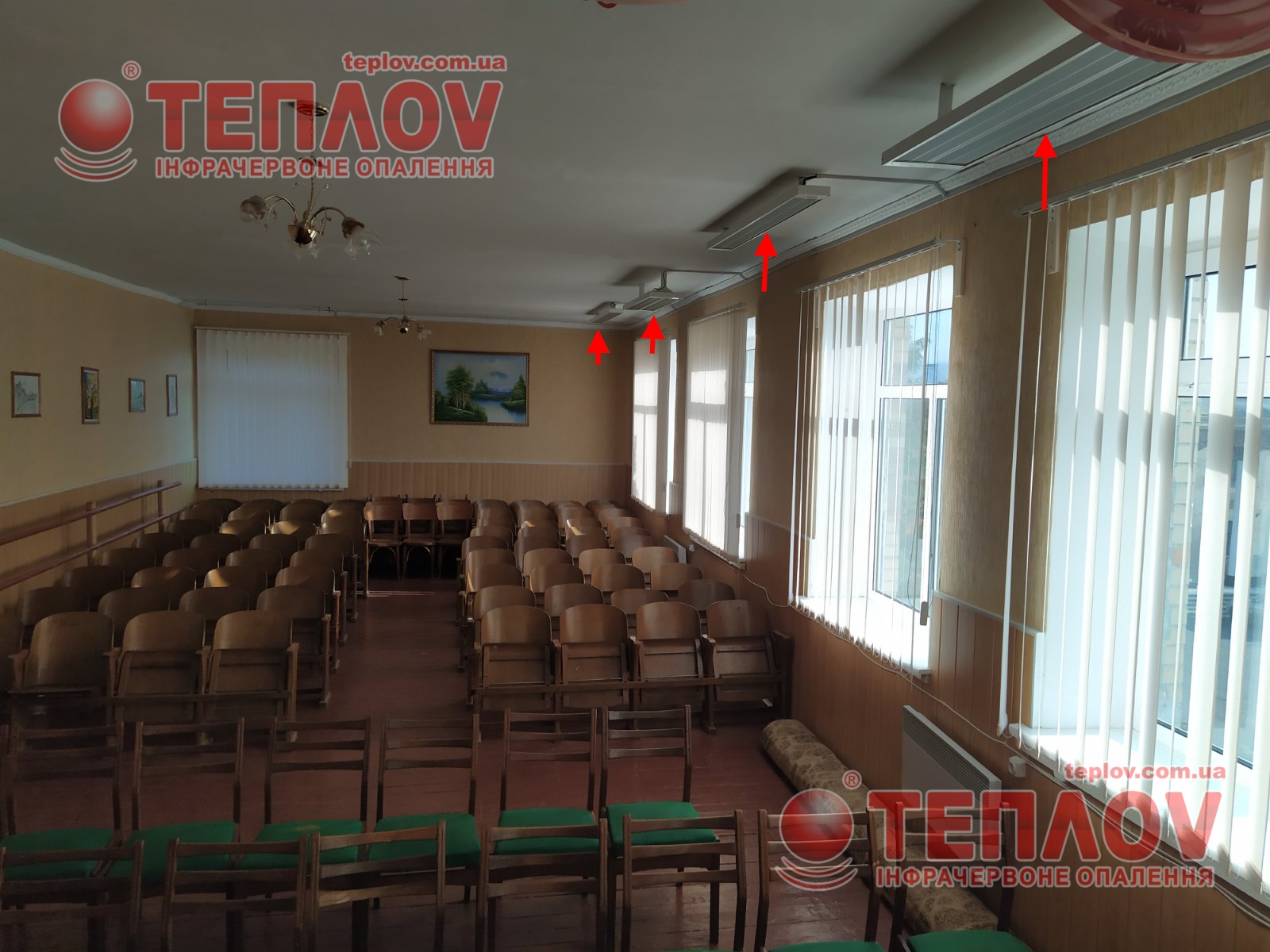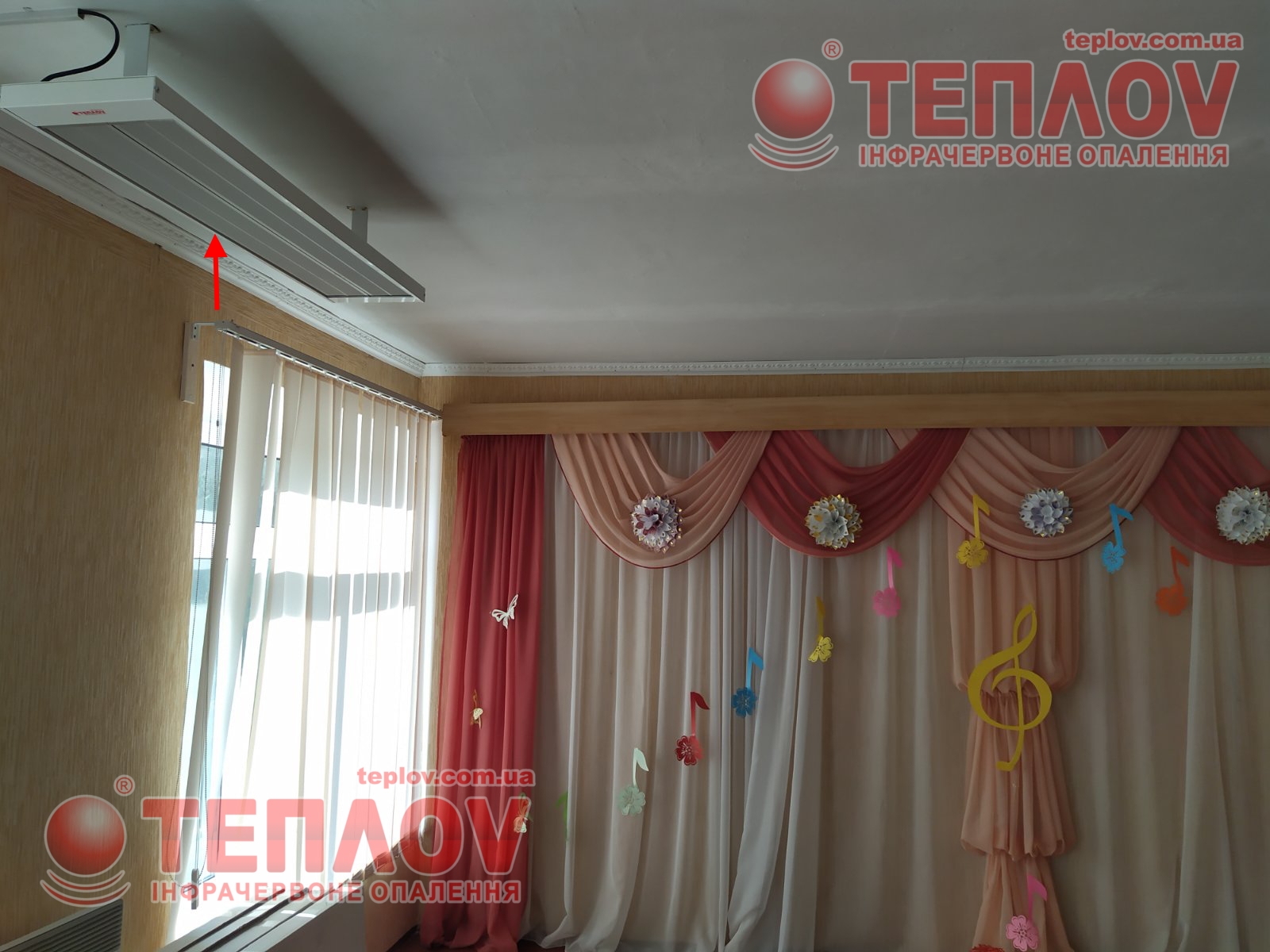 The infrared heating of the school is flexible in settings. Depending on the features of using a particular room, it can either be heated to +20 C, or maintain the standby temperature at +14 C. Heaters will warm up the room to comfortable levels in about 15-20 minutes. Thanks to this solution, a significant economic benefit is provided on payment for energy carriers.
All work on the design and installation of heating for the classrooms of the school was carried out by a representative of our company in Vinnitsa. For the heaters themselves, we provided a 3-year warranty for wall-mounted appliances, 10 years for ceiling-mounted appliances, and 1 year for installation.
Why IR Heaters Are the Best Option for Heating Preschool and School Facilities
Heating preschool and school institutions using infrared heaters produced by TeploV is the best solution in terms of comfort and safety of people in classrooms, as well as economic feasibility. This was facilitated by the significant advantages of IR devices:
The speed of creating comfortable temperature conditions. The temperature in the room starts to rise within a few minutes after turning on the infrared heater and will reach the required parameters in a short time.
Direct heating. An infrared heater does not heat the air, but objects and people in the room. Energy is not wasted.
Economical consumption of resources. Local impact combined with low energy consumption allows you to significantly save on paying bills for consumed electricity.
Absolute environmental safety. Infrared heating of the school does not dry out the air, does not emit hazardous substances that can harm human health.
Silent operation. The equipment is not equipped with a fan. This means that outside noise will not interfere with the lessons.
Long service period. IR heaters TeploV will last at least 10 years (ceiling) and 3 years (wall) without losing their effectiveness.
We approached the implementation of this project with all responsibility, realizing that we are talking about the comfort and safety of children. We are sure that this winter and in subsequent years, students and teachers of the music school will feel comfortable within the walls of the educational institution, regardless of the weather outside the window.