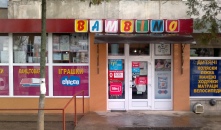 Heating shop "Bambino", Mukachevo
When installing heating in a store, the owners are often worried about such reasons as the dimensions of the heating device, for which it will be necessary to allocate additional space, the efficiency and at the same time the cost-effectiveness of such heating, as well as problems with installation or dismantling, especially if the store is rented and in which case I would not want to leave my money spent there and the installed heating system and start all over again. The solution to all these problems can be infrared heating.
Heaters that emit infrared rays and thereby heat the room are very easy to install and use. It is enough to consult with specialists to choose the right type, quantity and power of the unit and then you can install it without worrying about unnecessary permissions from the state. services, neighbors and the like. All heaters of TM Teplov have a guarantee, the necessary technical certificates and will provide you and your property with safe heat for many years.
IR heaters are mounted on the ceiling with adjustable cables, as well as directly to the surface of the ceiling. Thus, they will not occupy the place where people could move. The owners of the Bambino store in the city of Mukachevo also noted the advantages of infrared heaters, because they did not require any additional equipment, for example, pipes, hoses. Long-wave infrared heaters quite naturally fit into any interior in stores, however we have a special opportunity to repaint the ordered heaters in the color you need, if you still need it.
Thus, in addition to, of course, a high-quality heating system, you also get a stylish, nice-looking heater, which will become a real find for small shops, outlets, and for large supermarkets and pavilions.